INFORMATION
About wearing a mask (Updated March 13, 2023)
In accordance with government policy, guests will be able to use the hotel from March 13, 2023, leaving the wearing of masks to their own discretion.
Agora Hotel Alliance will continue to implement the following measures for the consideration of hygiene, and the safety and security of our guests. In addition, we will continue to display notices and other information requesting cooperation in wearing masks as well as using hand sanitizer.
– Hand alcohol sanitizer at the entrance and restaurant entrances
– Wearing plastic gloves in restaurants
– Temperature checks and health checks, and restrictions for guests with a fever of 37.5 degrees or higher or who are not feeling well.
We apologize for any inconvenience this may cause and appreciate your understanding and cooperation.
—–
In Agora Tokyo Ginza, to allow our guests to stay comfortably and safely, we made the guidelines for preventing COVID-19 spread as below.
(Main measures at common space, guest room, restaurent, business facilities)
1. Setting sanitisers
・We set sanitisers at lobby, restaurants, shops, and bathrooms at each floor.
2. Regular sanitisation
・We sanitise regularly at the spots where guests touch often such as door knobs, handrails of escalators, buttons at elevators, and so on.
3. Placement of acrylic boards
・We set acrylic boards at the front desk for droplet infection prevention.
4. Restaurant
・We set tables at social distances.                                                                            
・We sanitise tables/counters before and after customers use.
・We ask customers to avoid sitting face-to-face but sitting diagonally.
・We ask customers for paying at the tables.
(Measures for staff)
1. Physical condition is checked at time of the attendance.
・All of our staff check temperatures before starting work, and if it is higher than 37.5℃ or 1℃ higher than their normal temperatures or if they feel sick, we let them stay home.
2. Mask to be worn during talking with guests
・All staff wear a mask or a face guard.
3. Sanitisation of office and common space for staff
・We sanitise at areas for staff such as entrace for staff, office, lockers, bathrooms.
4. Staggering staff work times
We arrange the shifts of working time for our staff to avoid busy hours of commuting time.
5. Self-restraint for unnecessary outings
・We instruct our staff to avoid unnecessary outings including business trip, and joining for events.
(Request to our guests)
1.Please sanitise your hands and wear a mask at the time of a visit.
2. Please allow us to take your temperature and enquire about your health condition if you will be staying with us.
3.When you are not feeling well, please advise hotel staff.
We appreciate your kind understanding and cooperation.
March, 2021             
General Manager
Agora Tokyo Ginza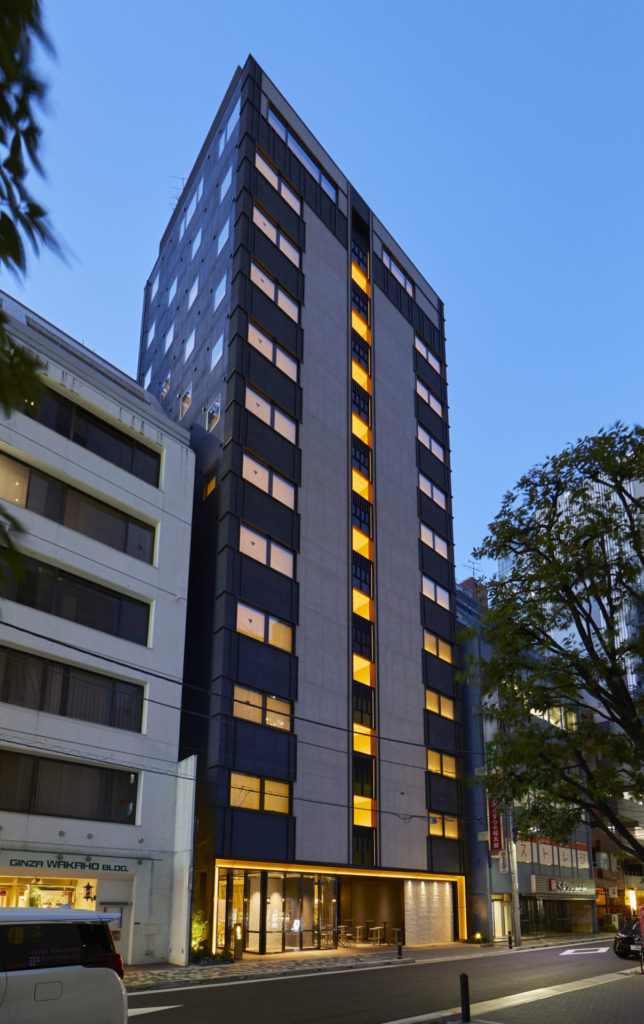 Agora Tokyo Ginza has opened on 9th of April, 2021 with great support from many people.
Our concept is "SATEI: A place to experience the town spirit. – A place to discover your inner sense of "IKI" (Japanese aesthetics) -". We look forward to welcoming you to experience Japanese beauty and values.
The hotel is located 2 minutes walk from Higashi Ginza Station (Subway). Our 97 minimalistic guest rooms are designed to provide you with a relaxing atmosphere.
Our lounge called "Ichie Lounge" is derived from the Tea Ceremony term "Ichigo Ichie (Treasure Every Meeting)", and we arranged this lounge to become a place for you to have once-in-a-lifetime experience here.
We aim to become a hotel beloved by customers, the local community, and also partners and suppliers, a hotel everyone can be proud of.
We really look forward to welcoming you here in Agora Tokyo Ginza.
General Manager.