SATEI: A place to experience the town spirit.
A place to discover your inner sense of "IKI" (Japanese aesthetics)
Invite you to our residence with the spirit of tea and create our time with you.
"SATEI" is a place that welcomes you with the spirit of Japanese Tea Ceremony. We strive to consider extensively on how we can serve you for your best memories.
The spirit of Ginza that continues to be "advanced" and always "the best" has strong connection with "IKI" that is a unique Japanese sense of beauty and values.
The aesthetics of Ginza "IKI" : to be authentic, always to have fashionable sense but never to push one's opinion onto others, not to be stubborn, and always being effortlessly chic.
By touching the "Town Spirit" of Ginza through the people of this town, it is more than just sightseeing, but a journey to find the best of your "IKI" inside of you.
Ginza is a town which only passes down authenticity through its generations.
Ginza is a place that while changes its appearance through the years, has always kept its identity of being "advanced" and always "the best". As times goes on, the history becomes tradition, and yet It always keeps the attraction of both faces, NEW and OLD through its history.
Through every generation, authenticity is always a matter of fact.
A space especially created
A fusion of Japanese and Western style of "IKI"
The welcome counter which is placed at the center of the lounge is designed with straight lines. The special Japanese tea pot with modern silhouette there has Mizusashi (special container for fresh-water for tea ceremony) made of brass, and a set of Japanese staggered shelves that are a symbol of Japanese rooms emerge by the frosted mirror.
You will find "IKI" in both Japanese and Western styles everywhere in Agora Tokyo Ginza.
Special Japanese tea pot to show "IKI" of Ginza
The tea pot, which is set in the round furnace of the welcome counter, has a beautiful form that which combines "function" and "beauty". It shows a casual playfulness which expresses the "IKI" that is typical of Ginza.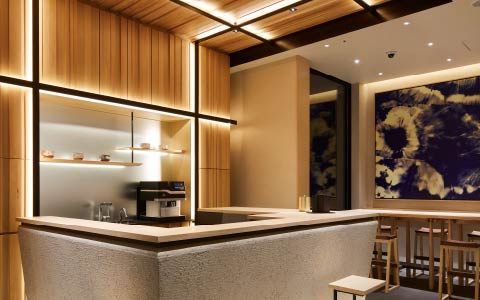 The counter that is placed at the center in our lounge
The welcome counter, which is the center of the lounge, has a straight design in the spirit of "IKI". Hinoki cypress is used for the wood that extends from the wall to the ceiling. Hinoki is a sacred wood that is familiar to Japanese people and has been used extensively in shrines and temples since ancient times. Hinoki cypress is also used on the Kabuki-za stage, Hanamichi.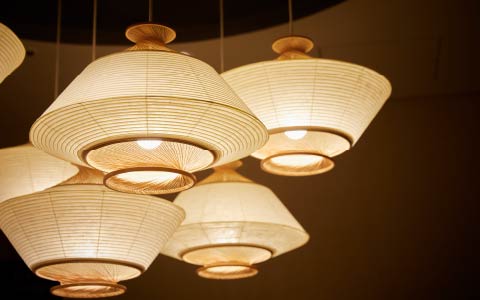 Chandelier as if a lantern giving off warmth
Over the hexagonal table facing the street, is a lantern named Ron which gives off warm light through Japanese washi paper. It uses traditional Japanese techniques of bamboo work and Japanese paper. The height was changed and they were hung to create an original Japanese chandelier.